Are you looking for Wheel Balancing 
Stanley
for your vehicle?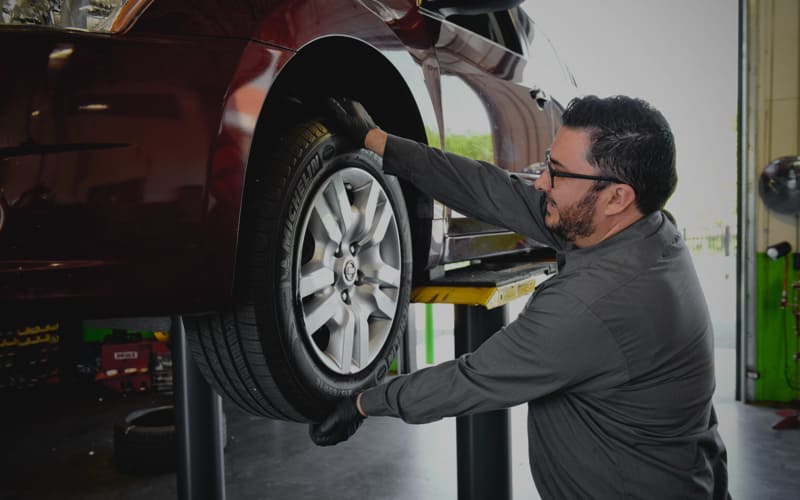 An unbalanced wheel and tyre assembly can cause odd vibrations in the steering wheel, floorboards and seat that can disrupt your driving comfort and handling safety. Moreover, prolonged driving with unbalanced wheels can reduce the service life of your car's suspension components and cost you a fortune.
Hence, our tyre experts recommend wheel balancing to assure the best vehicular performance and prolonged tyre service life.
Our team at D &R Tyres use advanced balancing equipment to equalise the weight distribution of your vehicle's wheel and tyre assemblies.
We conduct mandatory balancing checks after every tyre fitment session for optimum on-road safety and comfort.
When should you opt for wheel balancing Stanley?
If your car tyres are out of balance, there are a few key symptoms that will indicate the need to opt for wheel balancing Stanley from a reliable garage like us:
Steering issues -
Out of balance wheels cause unusual vibrations in the steering wheel and a delay in the vehicle's response. This abnormality results in an uncomfortable driving experience and leads to major safety risks.
Decreased fuel economy -
Unbalanced wheels add extra stress to your car engine and lead to increased fuel consumption.
Damaged shocks and bearings
The car's suspension components such as shock, springs or bearings are under regular stress due to unbalanced wheels. So, delaying getting your vehicle's wheels balanced on time might end up costing you extra bucks in the long run.
How can we help?
You will find highly experienced technicians at our garage who use state-of-the-art balancing machines to detect the point imbalance in your car wheels. We will clearly explain to you the issues also talk you through the process. After that, we will balance the wheels according to the manufacturer specifications.
So, visit us and stop your searches for a "wheel balancing garage near me".
For quotes and queries, call us on 01207 231123.
Or, you can also drive down to our facility at The Workshops Kip Hill, Stanley DH9 0LL.