Search Tyres by Vehicle Registration
Are you looking for Tyres Size for your vehicle?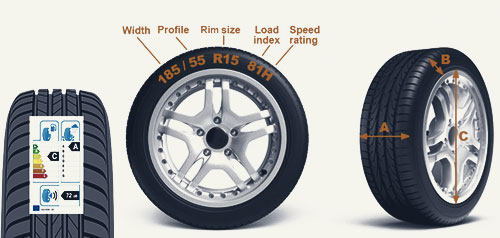 Installing the tyres of the right size is essential to ensure maximum handling precision, driving comfort, enhanced fuel efficiency and on-road safety. At D & R Tyres, our in-house tyre experts will first ascertain the tyre size of your car. After that, they will help you find the most suitable variants to ensure you make an informed purchase.
Buy car tyres Stanley online.
At D &R Tyres, you can purchase car tyres Stanley from the comfort of your home with just a few simple steps. Just fill in your vehicle details on our online tyre selection tool and choose a model of your preference from the catalogue. However, if you are not sure what the numbers and alphabets in the tyre size code denote, you might end up ordering the wrong set of tyres. The following section will help you understand and easily decode each component in the tyre size.
Tyre sizes explained
Let's take an example: 205/60R15 91V
205:

The first three digits refer to the section width of the tyre. The sectional width is represented in millimetres, and it is measured from the inner to the outer sidewall.

60:

The next two numbers denote the Profile or Aspect Ratio. It is represented as the percentage of the tyre width. Here, the tyre height is 60% of its width.

R:

It signifies the type of construction of the tyre. The tyre in this example is made up of radial construction.

15:

This number represents the rim diameter, which is measured in inches.

91:

After the wheel diameter comes the load index of a tyre. The load index stands for the maximum weight a tyre can withstand. The tyre in question has a load index of 91 which means it can bear up to 615 kg.
V: The last alphabet in the series denotes the maximum speed at which a tyre can operate safely. Here, the tyre has a speed limit of 240 kmph.
If you have any questions or need assistance in choosing the correct tyre size for your vehicle, our experts are always happy to help!
End your search for 'tyres near me', rely on D &R Tyres.