Are you looking for Exhausts Service for your vehicle?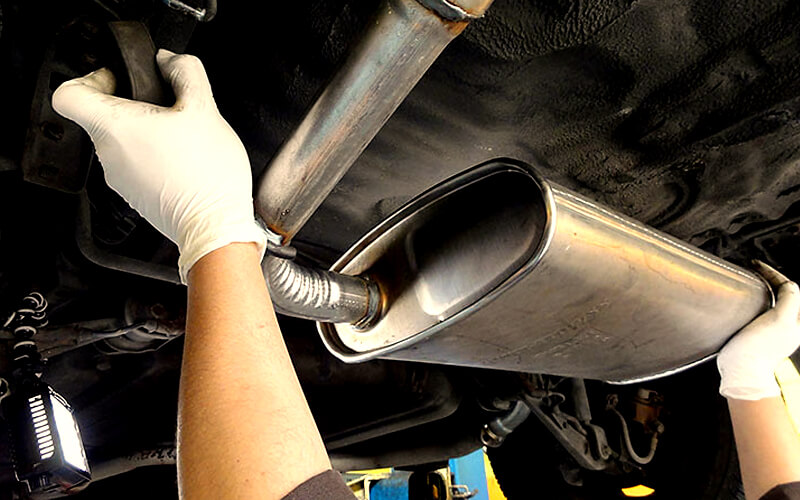 Your car's exhaust must function properly, as it can drastically increase fuel consumption and affect our environment. A faulty exhaust system can also become the cause of your vehicle's failing its annual MOT test.
It is ideal to seek professional help from our garage for exhaust repair Stanley, D & R Tyres to ensure your vehicle's roadworthiness.
The exhaust system of a car consists of –
Flex pipe
It prevents regular engine movements from damaging the exhaust system.
Catalytic converters
These are responsible for converting harmful fumes produced by the vehicle into carbon dioxide (CO2) and water (H2O).
Manifold
These metal tubes sometimes accommodate the catalytic converts and are connected to the engine through its exhaust ports. It collects the toxic gases from each cylinder and collects them into one common outlet.
Isolators or Gaskets
These accessories provide security and durability to your vehicle's exhaust system.
Mufflers
These reduce the sound produced by the engine when emissions pass through its exhaust system and do not let you have an unpleasant ride - or very annoyed neighbors.
Oxygen Sensor (O2)
This part monitors the concentration of oxygen in the exhaust stream. The PCM uses this information for fuel control, and it also helps in accessing the converting efficiency.
Resonator Assemblies
These are responsible to maintain the quality of flow in the pipes and provide adequate acoustics. It achieves that by using tuning technology and pipe routing.
Signs of a faulty exhaust system
Should any of these parts get damaged, it will show you clear signs like-
A significant drop in acceleration and power of the vehicle.
Production of excess noise while driving.
The pungent smell of gas along with other toxic fumes.
Excessively decreased fuel economy.
An intense burning smell from the engine bay.
Hanging exhaust pipe.
If you notice any of these signs in your vehicle, avail our professional-grade exhaust service Stanley immediately.
We do recommend a delay as these harmful gases produced by a faulty exhaust system can affect your physical health as well. It can also slowly start to damage other parts of your vehicle as well. Entrust your faulty exhaust with our experienced technicians and get it repaired with the best equipment in the entire city.
The most common cause of a damaged muffler is it's rusting due to excessive humidity. It is ideal to get your vehicle a thorough check-up to notice such problems at its primary stage. However, if you do not maintain your car properly, the severe rusting of a muffler can render it non-repairable.
You need not worry because D & R Tyres also provides high-quality replacement parts.
From clogging in the muffler to a misaligned exhaust system, there is no exhaust-related issue that our technicians cannot handle. So, don't search "exhaust servicing near me" or Exhaust Repair Stanley anymore and visit our service station instead.
We provide many other car services as well like mobile tyre-fitting, brake service etc. If you want to know more about our services, please come to us, check out our website or call our facility today.