Are you looking for TPMS Replacement for your vehicle?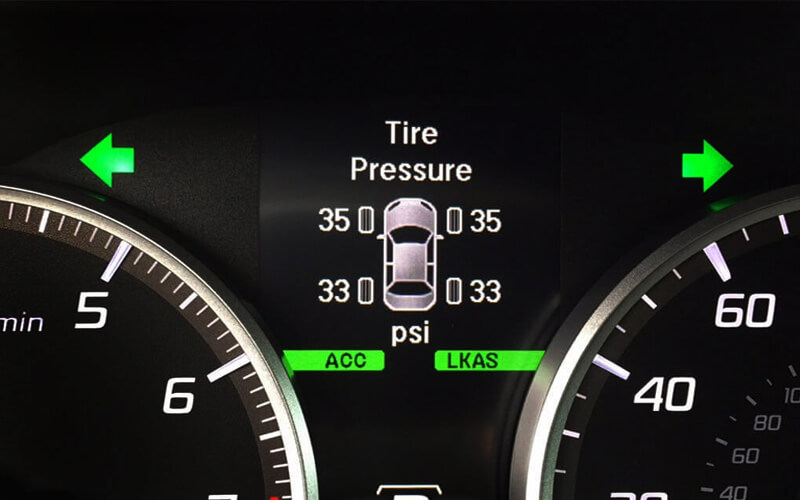 TPMS or Tyre Pressure Monitoring System is a tracker system that alerts a driver about tyre pressure inconsistency. The DVSA has made this system mandatory for all vehicles manufactured after 2014.
TPMS sensors keep track of tyre pressure constantly and send this data to the vehicle's ECU. When the tyre pressure drops below 25% of the recommended value, the ECU turns the TPMS warning light on the car's dashboard to indicate a discrepancy.
However, TPMS is also not immune to inconsistencies due to multiple reasons, like extreme temperatures, harsh external environment and other external issues.
At D & R Tyres, we understand that a damaged TPMS sensor is a safety hazard as it gives inaccurate readings. Therefore our experts use only OE-grade spares to replace damaged TPMS components to ensure on-road driving performance and longevity.
D & R Tyres is a reputed car workshop offering affordable TPMS replacement Stanley. Our experts use new technology and precision to efficiently repair or replace the damaged TPMS of your vehicle in the minimum time possible.
What causes damage in TPMS sensors?
Depleted batteries-
A common reason for TPMS failure is dead batteries. TPMS battery replacement is not possible as the TPMS batteries are sealed inside the sensors, and attempts to replace the batteries may damage the sensor altogether. Hence our experts recommend an affordable TPMS sensor replacement Stanley instead.
External damage
A TPMS sensor replacement Stanley might be needed due to it being exposed to harsh external conditions. Extreme temperatures can negatively affect the accuracy of a TPMS sensor, making it send inaccurate or no readings.
Galvanic corrosion
TPMS sensors usually come mounted on pure aluminium stem valves, making them vulnerable to oxidation and rust as they contact atmospheric impurities and water. These impurities cause galvanic corrosion, making routine TPMS sensor replacement Stanley imperative.
How often should you opt for TPMS sensor replacement?
Experts at our garage recommend TPMS replacement Stanley once every five years or once every 10,000 – 15,000 miles, whichever comes first.
However, your car's TPMS system might not last for five years, which is why our experts advise getting your car's TPMS sensor check Stanley yearly.
Please note that installing TPMS sensors is not a DIY process, and they need to be installed and calibrated accordingly every time you change a tyre.
Types of TPMS Stanley we work with
Direct system-In this system, the TPMS sensors are fitted inside the car wheels, which keep track of tyre pressure and transmits the same to the ECU. Your car ECU turns on the TPMS warning light once tyre psi level discrepancies exceed 25%.
Indirect system-This system collects data from the ABS sensors of your four-wheeler. The sensors scan the data to indirectly identify tyre pressures and subsequently trigger the TPMS warning light on your car dashboard.
By now, you might have gotten a fair idea about your car TMPS, so look no further and to opt for this service, visit us today at The Workshops Kip Hill, Stanley DH9 0LL. You can also call us on 01207 231123 to know more or book an appointment with us.